Dear Friends: Shortly before departing for our West Coast tour Yvonne and I will be performing our annual concert at the Esse Bar in Winterthur.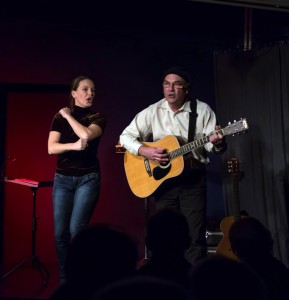 January 3, 2016-19:30
Mat & Yvonne perform at The Esse Bar in Winterthur
http://www.esse-musicbar.ch/programm/esse-konzerte/292-yvonne-moore
Next, we head for San Francisco to kick off a year commemorating the Easter Rising of 1916
The James Connolly-Easter Rising Tour 2016
    Mat Callahan and Yvonne Moore begin a year of celebration!  
    James Connolly and the 100th anniversary of the Easter Rising.  
    From the publication of Songs of Freedom in 1907 to the declaration of the Irish Republic on the steps of the General Post Office in Dublin 1916, Connolly's vision was a beacon in the struggle for liberation. Using Connolly's own songs along with others made famous in Ireland's fight for independence, Callahan and Moore perform a spirited tribute to the rebels of Easter Week and the leadership of James Connolly.
January 10th-4pm-The Starry Plough, Berkeley, CA. (with Robb Johnson)
3101 Shattuck Avenue (510) 841 0188
http://www.thestarryplough.com/
January 13th-10pm-Live on-air the 'Sing Out' show with Larry Kelp on KPFA (Berkeley, CA)
https://kpfa.org/
January 15th-7pm-House Concert in Oakland, CA.
for reservations contact: info@matcallahan.com
January16th-Workshop in the afternoon at the Western Workers Labor Heritage Festival
Machinists Hall 1511 Rollins Road
Burlingame, CA  94010
http://www.westernworkersfestival.org/
January 17th-Evening concert at Western Workers Labor Heritage Festival
(see above)
January 21st-Evening concert at the Sacramento Marxists School
Sierra 2 Center, 2791 24th Street, ROOM 12, Sacramento, CA 95816
http://www.marxistschool.org/
January 22nd-Evening concert at the Poet And Patriot Pub, Santa Cruz
320 Cedar St
Santa Cruz, CA 95060
(831) 426-8620
https://www.facebook.com/The-Poet-The-Patriot-Irish-Pub-228600820559650/
January 23rd-Live on-air on the Musical Tapestry show on KALW (San Francisco, CA) with Kevin Vance
http://kalw.org/
January 24th-11am-live on-air on the Across The Great Divide show on KPFA (Berkeley, CA)
https://kpfa.org/
Sunday, January 24th – 7:30pm – First Presbyterian Church Palo Alto
Sponsored by Reach And Teach and the Peninsula Peace and Justice Center
Concert held at: First Presbyterian Church Palo Alto 1140 Cowper Street Palo Alto, CA 94301
http://www.peaceandjustice.org/concert-songs-of-freedom/
http://www.reachandteach.com/content/index.php
January 26th-Evening concert at the Salon in Davis, CA.
for reservations contact: info@matcallahan.com
January 27th-3pm-Class at California Institute for Integral Studies
California Institute of Integral Studies
1453 Mission Street San Francisco, CA 94103
415 575-6100
http://www.ciis.edu/
January 27th-7.30pm-Concert at 518 Valencia
518 Valencia, San Francisco, CA. 94160
(415) 863-9977
https://www.facebook.com/518valencia
January 28th-7:30pm-Concert Caffe Frascati
315 South First Street
San Jose, CA 95113
(408) 287 – 0400
http://caffefrascati.com/
January 29th-7:30-Concert at TD's in Berkeley
for reservations contact: td6669@gmail.com
January 30th-2pm-Down Home Music in-store concert
10341 San Pablo Ave
El Cerrito, CA 94530
(510) 525-2129
http://www.downhomemusic.com/