The following is a brief update on three ongoing projects:
The Explosion of Deferred Dreams (musical renaissance and social revolution in San Francisco 1965-1975)
Radical Perspectives on Intellectual Property (an edited collection)
Songs of Slavery and Emancipation (printed book an audio recording)
The Explosion of Deferred Dreams is in the final stages of preparation for publication in January 2017. The manuscript was basically finished last year but my publisher, PM Press, and I decided to hold off publication until January 2017 when the media hype around the 50th anniversary of the Human Be-In, the Monterey Pop Festival and the "Summer of Love" will be in high gear. We felt this would be the most propitious moment to launch our counterattack, partly due to the attention the media will no doubt devote to the subject, but also because of the genuinely historic nature of events that transpired half a century ago. The ultimate reason I've spent the last 10 years researching and writing this book is that great things did, in fact, occur in San Francisco in the Sixties and these need to be celebrated in the spirit that inspired them in the first place: consciousness-raising and human liberation.  Please click on link to see PM Press' announcement:
http://www.pmpress.org/productsheets/pm_titles/explosion%20of%20deferred%20dreams.pdf
Radical Perspectives on Intellectual Property is a book comprised of twelve chapters, each devoted to a particular point of contention between defenders and opponents of current Intellectual Property regimes. Defenders are, in the main, corporations headquartered in the United States, Europe and Japan, opponents are from diverse populations throughout the world. Farmers and Indigenous Peoples, for example, are to be found everywhere but in particular, it is in the Global South that the fiercest opposition to Intellectual Property regimes is being mounted. At the same time, there are software developers, teachers, artists and scientists who have maintained resistance to the privatization of knowledge, especially in the wealthy countries of the Global North. These two broad groupings are the forces Radical Perspectives on Intellectual Property draw upon to provide a critique of and alternatives to copyright, patent and trademark as they are presently constituted.
I am the author of two chapters in the book and am co-editor, along with my good friend Jim Rogers, of the remainder. We hope the book will be available in Fall 2017. Updates on this project's status will be available on this website or contact me by email: info@matcallahan.com for more information.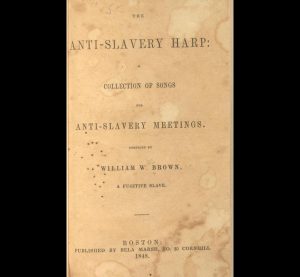 Songs of Slavery and Emancipation has entered a new phase. In May and June this year I held productive meetings with the administration of Berklee College of Music as well as spending a week at the Library of Congress doing research. The meetings with Berklee have resulted in a working plan for assembling musicians to perform and record the slave and abolitionist songs of which this project will consist. Berklee has a scholarship program in Clarksdale, Mississippi which prepares young African-American musicians for entry into Berklee in Boston. Our plan is to go to Mississippi and work with some of these young musicians to arrange and perform the slave songs. Next, we'll go north, probably to Boston, to assemble another group of musicians who will arrange and perform the abolitionist songs. The reason for the two different ensembles is that there are two distinct groups of songs, i.e., slave songs and abolitionist songs, to a great extent written and performed in different contexts. Although there were many slaves who became abolitionists contributing mightily to the repertoire of abolitionist songs, there were nonetheless, many others who contributed to a large repertoire sung by diverse populations in the struggle to abolish slavery. Furthermore, while slave songs remained unheralded (except among the slaves themselves) until after the Civil War, abolitionist songs were composed for the purpose of mobilizing resistance to slavery, in many cases being written down and widely disseminated throughout the North and South.
Many people are familiar with certain slave songs, such as "Oh, Mary Don't You Weep" and "Wade In the Water." Many people are aware that among the Negro Spirituals are songs of resistance composed and sung by slaves in coded speech to prevent their subversive meaning being detected by slave owners. However, what many people are unaware of is that there are slave songs with overtly revolutionary content, lyrically expressing the political and literary sophistication of their composers. There are, for example, compositions celebrating the Haitian Revolution. This is our particular focus. We do not intend to repeat the wonderful work that has already been done by generations of our forebears, especially the work of Eileen Southern and Josephine Wright. In fact, there are already many great recordings of slave songs, Negro Spirituals and songs of the Underground Railway that are readily available.
What my research has revealed however, is a number of songs that have been perhaps noted by researchers and referred to in obscure academic publications but have otherwise remained hidden from view. Indeed,  I have discovered texts and music that, to my knowledge, has not been written about, let alone performed, in 200 years! I have already assembled an abundance of abolitionist songs (easier to do since they were deliberately printed and preserved). But I still have work to do to gather all the necessary slave songs. This is harder because these songs were made by and for slaves, and not intended for the ears of slave masters. I am nonetheless making progress and hope to complete the research by the end of this year.
After assembling all the material I hope to produce two cds, one of slave songs, the other of abolitionist songs. Along with the audio recordings I plan to edit a book containing song texts, musical notation and historical background that will enable people to sing the songs while gaining an appreciation of where they came from.